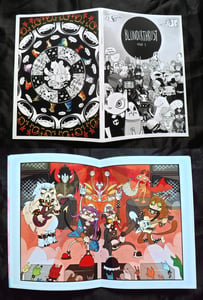 £

3.00
BLUNDERTHRUST is a brand spanking new comic packed with 30 pages of NEW and EXCLUSIVE content!!!
\m/ METAL!!! LAFFS!!! CATS!!! DEMONS!!! SQUIRRELS!!! BARF 'N FARTS!!! \m/
Featuring comics from:
+Myself (Blurgh! The Black Metal Cat, Tales of Malice)
+Liam "Pais" Hill (Highgreen Dawn, Cobweb Galaxy)
+Cat Byrne (Mizzle)
+Chris Browning (The Common Swings)
+Zeke (Diary of a Squirrel)
~+*LIMITED NUMBER AVAILABLE*+~
Printed on High Quality Gloss Paper.